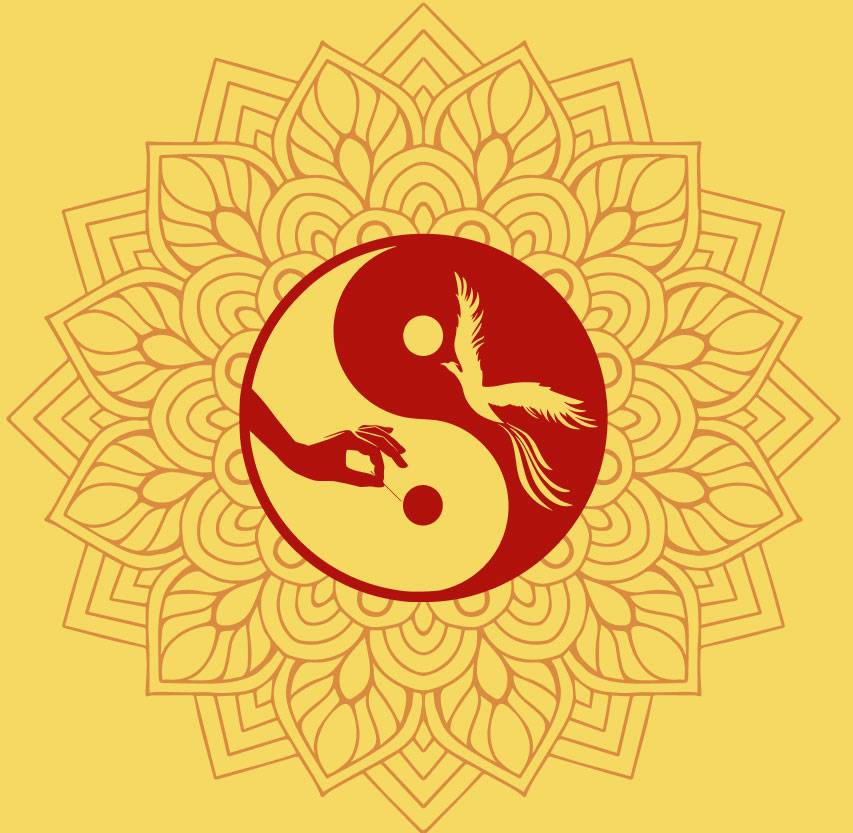 Gua Sha, skin scraping therapy, originated in ancient times, and was a popular technique of disease treatment and health in China, Japan, Tibet for centuries. It is well known for its simplicity and immediate pain relief, stopping coughing and improving many other health conditions. Gua Sha is a Chinese word ― "Gua" means scraping while "Sha" stands for the redness associated with the procedure. Gua Sha treatment offers rewarding benefits with little to no side effects. It is a very versatile treatment that has existed for over 5000 years, tested, and trusted with solid evidence.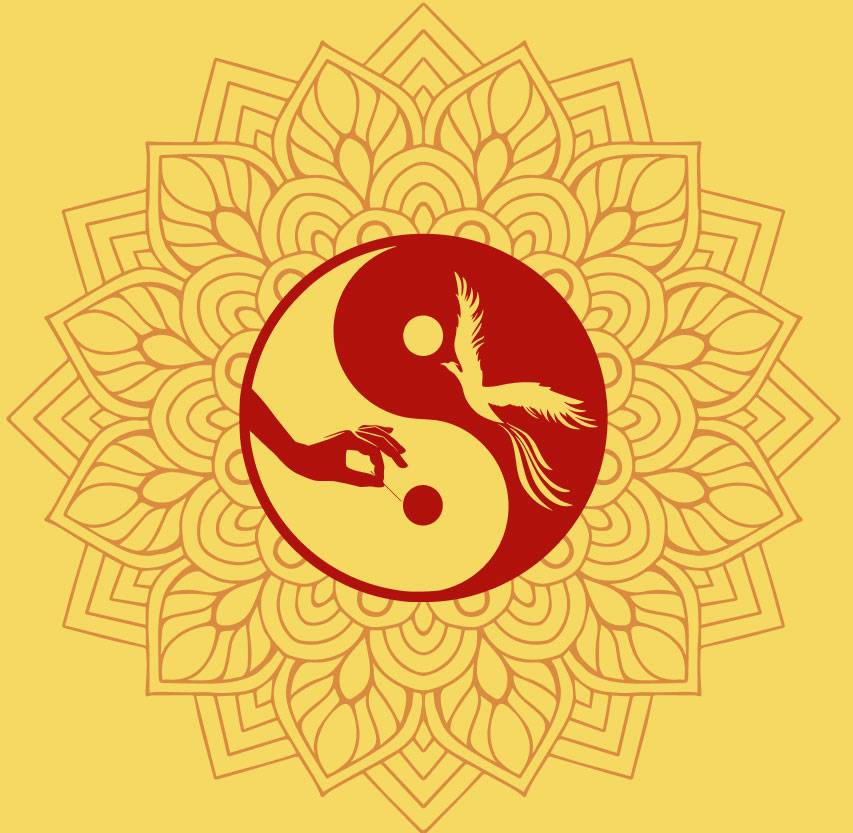 Gua Sha therapy is an important part of Traditional Chinese and Japanese medicine that involves deep tissue massage – skin scraping with specific Gua Sha tools leading to increased blood flow and lymphatic drainage. It treats common conditions like chronic pain, fever, facial puffiness, and severe headache. The combination of Gua Sha massage and scraping leads to redness. These red marks indicate increased blood flow to specific areas, lasting a few hours to days.
The right Gua Sha tool is important to achieve better results. Practitioners of Traditional Chinese medicine initially used Gua Sha porcelain spoons, jade stones. These tools offer a cooling effect during the Gua Sha massage.
Gua Sha has now become widely accepted because of its numerous benefits for common ailments. However, to achieve your desired results, it is still vital to get it done by highly skilled professionals of alternative medicine.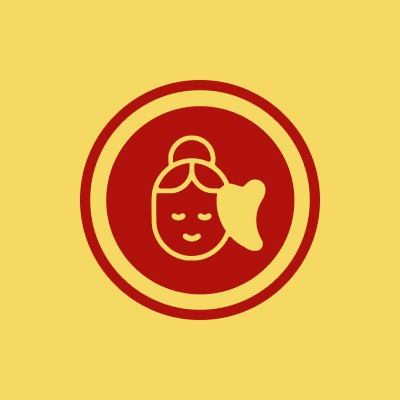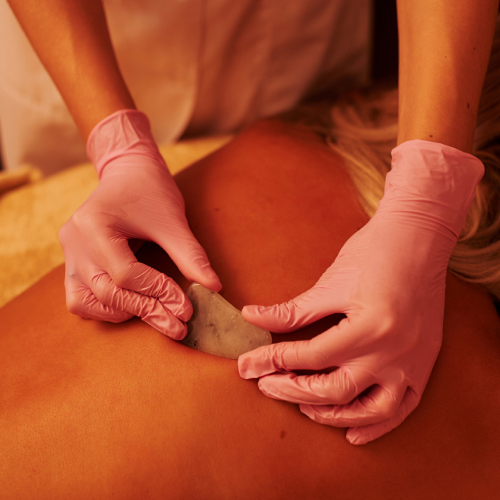 Gua Sha massage therapy treats the following:
Muscle pain: the intense Gua Sha scraping helps to increase microcirculation.. This process supplies antioxidants and anti-inflammatory mediators to clear out toxic products commonly implicated in causing pain
Facial puffiness
Fine lines and wrinkles
Joint pain
Neck pain
Severe headache
Fever and chills: heat is expelled from the body through skin scraping and increased blood flow to the superficial skin.
Respiratory infections: this works by relieving stasis in the upper respiratory tract and clearing out mucus.
Fibrosis: deep tissue massage helps break down scars in the muscle.
Hepatitis B infection: Research shows that Gua Sha treatment drastically reduces liver inflammation associated with the Hepatitis B virus.
Gua Sha For Pain Treatment
Gua Sha therapy is a form of deep tissue massage that relieves tension and tightness. It is usually performed on the back, neck, and upper and lower limbs.
" A person is sick not when he has a disease, but a disease occurs when a person is sick "
Gua Sha As a Part Of Cosmetic Acupuncture
Facial gua sha treatment has proven to be very promising over the years and is still constantly delivering alongside multiple studies and research to back up these benefits.
Specific adjustments to Gua Sha facials are essential because the face is very delicate. It involves mild stroking of the face towards the side of the face where the lymph channels are concentrated.
Facial Gua Sha, combined with Cosmetic Acupuncture or Face Acupuncture is very effective for face rejuvenation.
Here are some specific cosmetic benefits of combination treatment of Gua Sha and acupuncture:
It enhances better sculpturing of the face by reducing sagging. It is also an excellent replacement for botox.
It reduces facial puffiness:  The under-eye swelling. Although there are numerous causes of facial swelling, the most common cause is sluggish lymphatic drainage, which Gua Sha massage solves.
Skin glow: Gua Sha therapy also serves as a form of relaxation, it reduces stress and anxiety, which are primary antagonists to good skin health
Eliminates wrinkles: wrinkles appear from long-standing muscle contraction. Gua Sha massage helps relieve and relax facial muscle tension and results in the gradual disappearance of wrinkles.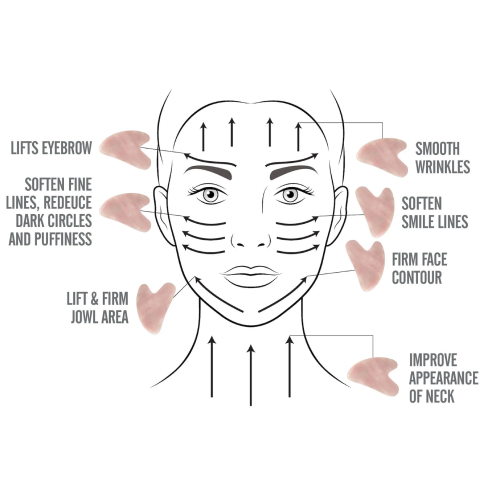 30 Min By Phone

For New Clients

By Video (Optional)
Gua sha

Cupping therapy

Sliding cupping massage
10 Sessions

Treatment Plan

All Services Included
Make an appointment for a consultation
Gua sha treatment is known to deliver remarkable benefits, and some of these include:
Increased blood circulation: rubbing the jade stone or porcelain spoon against the skin activates specific pressure points leading to vessel dilation and more blood supply.
Increased lymphatic drainage: the lymph vessels depend solely on massage, exercise, and muscle movement to drain their contents. With proper gua sha massage, this can be achieved and help treat many conditions.
Provides optimal Qí: Qí is a Chinese word that refers to life force energy. The relaxation that Gua Sha provides helps boost the energy in the body and releases stress.
Relaxes muscle tension: Gua Sha massage breaks down muscle adhesions and relieves muscle stiffness.
Face lifting: upward stroking of the face with the right gua sha tool helps improve circulation and lymph drainage. It gives a better-toned look, reducing sagging to a large extent.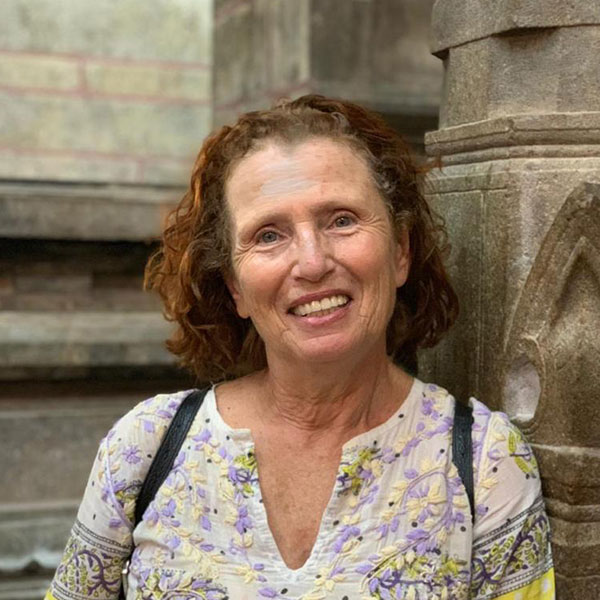 Education:
Master's Degree in Oriental Medicine from Pacific College of Oriental Medicine in New York
Japanese
Acupuncture Course with T.Koei Kuwahara in New York
Tung's Acupuncture Therapeutic System with Dr. Wei-Chieh Young
BTB Professional School of Feng Shui in New York, three-year degree
Face and Body Reading Course in New York with Master Dr.Edgar Sung
"Maria is amazing! I had sustained a foot injury which caused chronic pain and limited my physical activity, I had seen several orthopedic specialists with no improvement. After just a few visits with Maria I began to feel much better. She has also administered treatment to my young son and he felt safe and comfortable under her care as well. She listens to her patients and administers treatment with expertise and most importantly with care and compassion for the individual."
"Maria is more than an acupuncturist, she is a holistic healer – working not only on our physical bodies but also nourishing the underlying emotional and spiritual realms that guide our lives. With ancient Chinese medicinal techniques, acute sensitivities, and uncommon wisdom, Maria helped to heal the pain in my body in a way western medicine may fall short. Indeed, she is unique, skilled, and powerful."
Gua Sha At Firebird Acupuncture Office
The major misconception of Chinese gua sha is that anyone can do it because the procedure looks basic. However, special attention and skills are needed for the scraping massage, and it is essential to get this done by a licensed practitioner of Traditional Chinese medicine. Maria Gorens has more than 25 years of experience and helped many of her patients to look and feel better,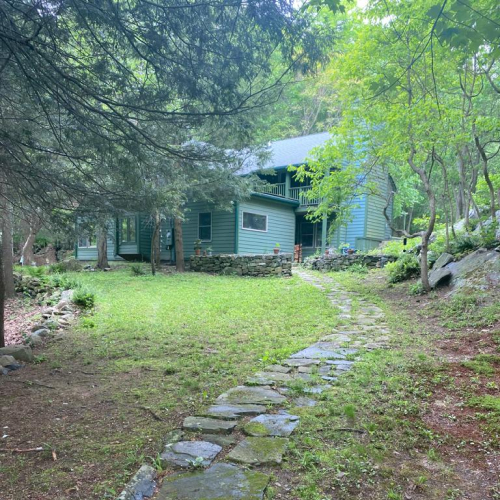 Gua Sha, scraping therapy, is very effective for immediate pain management, enhancing blood and lymph circulation, and helps to decrease high fever.
Gua Sha massage helps to enhance blood and lymph circulation.
After Gua Sha treatment will redness or/and bruises on the skin, which disappear in 2-3 days without a trace.
Gua Sha - Treatment Directions